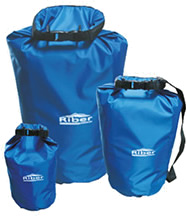 Ideal for use when camping, caravanning, skiing, canoeing, kayaking or any other outdoor pursuits. Keeps your belonging's safe from dust, water and snow while you are out enjoying the great outdoors.
Our Dry Bag is a waterproof bag with straps making it ideal for extended portages or hiking in severe weather, keeping your gear completely dry whilst durable enough to take abuse.
It comes with padded straps to distribute the load evenly.