10.5 miles with a pub stop and steam train return
Contact and Book at  info@canoeuk.com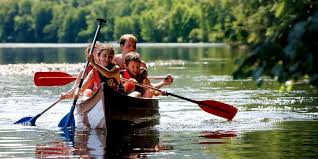 Our most popular trip from Bridgnorth to Arley is a 10.5 mile paddle downstream. The group assembles at Severn Park, Bridgnorth at 10.00 am where we will meet you with the canoes.
After a briefing about canoeing techniques and safety issues you start with a six mile paddle to Hampton Loade. At this point there is a stop for about an hour for lunch, (you can either purchase this at the pub or bring a picnic and eat outdoors). In the afternoon you continue downstream to Arley. This is about 4.5 miles.
From there your return journey is on the Severn Valley Steam Railway, which delivers you back to the train station at Bridgnorth. This is a 10 minute stroll from your start point. You usually get back to your car at approx 5pm.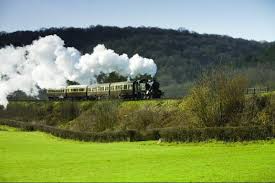 The prices without steam train return are £28.00 for adults and £14.00 for children.
£40 per adult and £24 per child with steam train return ticket included. Please note trains only run Thursday, Friday, Saturday or Sundays.
Other return journey options are taxi or leaving a car at the end of the canoe trip. Another good cheap alternative is the bus service from Arley to Bridgnorth https://bustimes.org/services/297-bridgnorth-to-kidderminster
The price includes all your equipment, safety talk and tips before departure and the option of a return ticket for the steam train.
Book your trip at  info@canoeuk.com