Contact and Book at  info@canoeuk.com
Day 1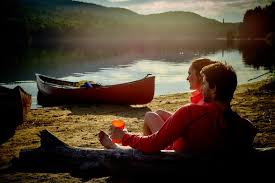 Meet in Hampton Loade at the Unicorn Inn car park at 10.30am.
Minibus takes the group to Coalport where you are given your canoeing equipment and a short safety talk before leaving.
Paddle 7.5 miles to Bridgnorth. (You can stop here for lunch).
Then paddle another 6 miles to Hampton Loade.
Finish at approx 4.30pm.
Camp overnight at the Unicorn Inn or other campsite depending on your requirements. (See below)
Day 2
Start at 10.30am.
Paddle 4.5 miles to Arley (stop for lunch).
After lunch paddle 4 miles to Bewdley, passing through the Wyre Forest area and a stretch of fast water at Trimpley (Garde I / II).
Finish in Bewdley at approx 3.30pm.
Return to Hampton Loade by steam train.
Back to Hampton Loade at approx 4.30pm.



Prices
The price is £90.00 per adult and £60.00 per child. This includes canoeing equipment, transport to Coalport and the return ticket for the steam train on Day 2. Our Minimum booking for this trip is four people.
(Tents and camping fees are not included).
The camping can be organised by calling 01746 861515 (Unicorn Inn camping at Hampton Loade). The Unicorn Inn offers riverside camping BUT it can be noisy at peak times and is perhaps not the most suitable option for families. However you don't need to drive anywhere at the end of Day 1 and the beginning of Day 2 if you camp at the Unicorn Inn.
Other camping options; if you prefer an alternative campsite which is possibly quieter with better facilities there are sites available nearby, however this option will require you driving from the Day 1 canoe finish point at Hampton Loade and returning to the Unicorn Inn the next morning.
PLEASE CHECK WHEN BOOKING THAT YOUR CARS ARE LEFT IN THE RIGHT PLACE FOR YOUR CAMPSITE CHOICE.
Please contact us before your trip to confirm pick up place and time.
Book your trip at  info@canoeuk.com