Frequently Asked Questions

What time do we finish?
Approx back at your cars at 5pm on the Bridgnorth to Arley trip and 6pm on the Bridgnorth to Bewdley trip.
Can we bring our dog?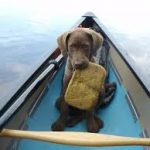 Yes we like dogs as long as they are well behaved and not too big. A large dog moving about in a canoe can make it unstable and may end in a capsize for its owners!
Please don't put them on a lead while in the canoe or in any way tie the animal to the craft. We don't supply buoyancy aids for dogs.
Do we need to book or can we just turn up on the day?
Yes you need to book in advance as we do get busy.
Is there a minimum age?
6/7 years old is our minimum age and children need to be able to swim at least 50 metres.
Is the trip suitable for beginners?
Yes probably 75% of our customers are novices. We use easy grade 1 water on our river trips and open top canoes require no previous experience.
What time do we get to the lunchtime stop as we have friends who want to come and join us for lunch?
Approx 12.45pm – 1pm depending on how fast or slow people paddle.
Do the boats have a weight limit?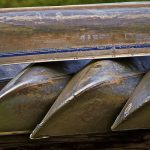 There is a limit of three adults or a total weight of approx 225kg.
When are you open?
We open at Easter and run pretty much every day until mid September and then every weekend until November.
Is there a chance I might fall in?
The simple answer to that is yes there is a chance as you are canoeing on water, however most people do stay dry. If someone is very nervous we can twin two boats together making it a very stable double-hulled craft with a capsize very unlikely.
Are there toilets and parking at the start point?
Yes there are toilets and a pay and display car park in Bridgnorth (£2.00 per day per car).
What time do we need to be there on the morning of our trip?
9.45am for both day trips starting in Bridgnorth. The two day trip usually meets at 10.30am at the Unicorn Inn car park in Hampton Loade.
How many people go in the canoes?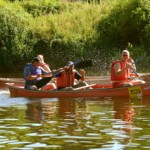 The canoes are two and three seaters.
Is lunch included in the price?
No lunch is not included in the price.
Is the steam train return included in the price?
Yes the return ticket on the steam train is included in the price if you have booked the Canoe trip with steam train return package.
Can we do the trip in reverse i.e. train up in the morning then canoe down?
Normally no as we have groups meeting at 9.45am and the first train into Bridgnorth is usually midday which means we have already left the meeting point and are on the river heading downstream.